SANDY ALLEN 1955-2008
Photo at right from display at Spiece Fieldhouse in Ft. Wayne Indiana

YOU CAN PURCHASE THE PAPERBACK COPY AND THE E-BOOK COPY OF "CAST A GIANT SHADOW" FROM AMAZON.COM BY CLICKING THE LINK TO THEIR WEBSITE PAGE.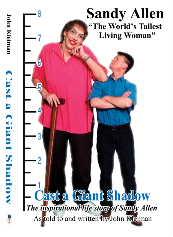 "Cast A Giant Shadow" Cover With Sandy And 6' Friend Kelly
"Cast A Giant Shadow"... The Inspirational Life Story of 7' 7 1/4" Tall Sandy Allen, "The World's Tallest Living Woman" by John Kleiman. Sandy shares her true story for the first time in this her ONLY AUTHORIZED biography!
She prayed to be like the other girls, but knew she never would! Learn from Sandy's example that through determination, you too can overcome most of life's obstacles. Throughout her childhood, Sandy was ridiculed for her looks and her size. But she learned to confront adversity and accept the "special position" she had been given on this earth. Sandy shares personal insights into her private life and openly talks about the problems she faced growing up. Sandy reminds us "we are all different!" There will likely never be another woman taller than "gentle giantess" Sandy Allen.
She has appeared in the Guinness Book of World Records since 1976 and is one of the most recognized women in the world. Enjoy the behind the scenes look into her many television appearances and travels. Sandy invites you to "share her journey" as she continues her personal mission to teach the world "the Golden Rule" and that "It's OK To Be Different!"
TO ORDER THE PAPERBACK BOOK OF "CAST A GIANT SHADOW" FROM AMAZON.COM CLICK HERE.

"
Cast A Giant Shadow" and audiobook and website content Copyright John E. Kleiman 2015.
Web Hosting powered by Network Solutions®